Armada SR 150 Service Manual.pdf
Armada SR 150 Service Manual.pdf
Armada SR 150 Service Manual.pdf
Adobe Acrobat Document
1.7 MB
Armada snowmobiles have been popularly known since 1980 - it was at that time that the company began to manufacture motorcycles.
Previously, the plant produced components for engines of various companies and, due to the expansion of the production line, it was decided to start production of its own motor vehicles.
For more than 30 years of existence, only three modifications of snowmobiles left the assembly line of the plant, which is somewhat depressing.
In addition to snowmobiles and engine parts, the company successfully produces scooters and ATVs.
As mentioned earlier, Armada snowmobiles are represented by a small model range consisting of only three copies - PD 150, PD 250, SR 150.
To get a complete picture of the model range, we immediately mention that all snowmobiles are assembled at several sites in China and Taiwan.
Despite the fact that Armada does not have its own production base, it successfully manages to supply and sell products under its own brand.
Great technique, suitable for both work and entertainment. A non-hazardous, comfortable and at the same time medium-powered machine cannot compete seriously with the same Arctic Cat, but it fully justifies its cost and performance.
SR 150 can accelerate to 55 km / h, which allows you to quickly and comfortably make short trips.
Light weight allows you to safely move not only in deep snowdrifts, but also on ice. This is especially valuable in hard-to-reach regions where there are no bridges.
When creating this model, engineers paid special attention to safety - it is very difficult to roll over on such a snowmobile. A small capacity (only 150 "cubes") allows the use of this snowmobile not only for adults, but also for children.
Unlike the SR 150, this model is characterized by higher quality characteristics and performance.
The aggressive, sporty design of the model amazes you with its sharp, attractive forms and even a teenager will like it.
The PD 250 can accelerate to 60-65 km / h. The well-developed 16-horsepower motor quietly tolerates sudden changes in temperature and will not cause a lot of problems at startup.
Despite the fact that this snowmobile is designed more for entertainment, it is ideal for long trips. Its power is enough to pull a small sled with 1-2 passengers.
Weight of 155 kg, allows you to use the model everywhere, from skiing on snowy distances, and ending with long trips on frozen river deltas.
The snowmobile is single and not designed for pair skating. Not everyone will appreciate this design move, but some people like these solutions.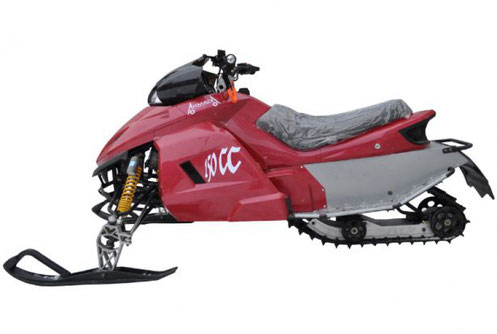 Unlike its more powerful brother, the Armada PD 150 snowmobile is not suitable for high-speed snowmobile driving - this model is more suitable for small trips along the snowy, rural roads of our country.
Such models are bought mainly by lovers of summer holidays, or those who live in country houses all year round. With an engine displacement of only 150 cm3, the model can accelerate to 55 km / h without any problems.
Another distinctive feature of the product is its light weight, which is especially attractive when driving on icy rivers and lakes. Type of ignition - electric. In order not to freeze hands, the creators of the snowmobile provided for heated handles.
Security is another distinguishing feature of the Armada. When the driver falls into the snow, a safety check is triggered, which automatically turns off the ignition and the snowmobile stops.
Powerful optics allows you to make trips even in the dark, not to the detriment of the health and safety of the driver.
Someone will be disappointed by the fact that the model has only one seat - you can't ride together. But, if necessary, you can pick up the sled and ride, for example, your children. The snowmobile will quite cope with this task.